On progress and other things - 12/7/19
---
I've gotten back to working on Slimes more regularly after taking a break to do other things. While I'm missing my goal to have this out before the end of the year, it's probably for the best. You know, crunch culture is bad and all that stuff.
There's some mild spoilers in this video, but it shows off some small changes. Somebody on Kartridge recommended that I should set up a system so that you don't have to reload your gun every time you switch weapons. I thought, "eh that seems hard," but I finally dug into it and it actually took like, 5 minutes. Another thing is that enemy buffs are, well, buffed. I want to force people to rely on using risky buffs to counteract that, you know. In the final version of the game, you can also opt to choose whether to make the rest points one use or unlimited use, because somebody reasonably pointed out that the latter undermines the game's general difficulty.
Floor 15/20 of the game is done, so there's that. This last stretch of the game has a slowed down version of Granular Dreams for the battle theme because I like final areas in a game just having a different battle theme. I'm aiming to have Slimes done on either February 2020 or April 2020. No March because there's too many games releasing that time and I'd be a goddamn fool to put this out in March.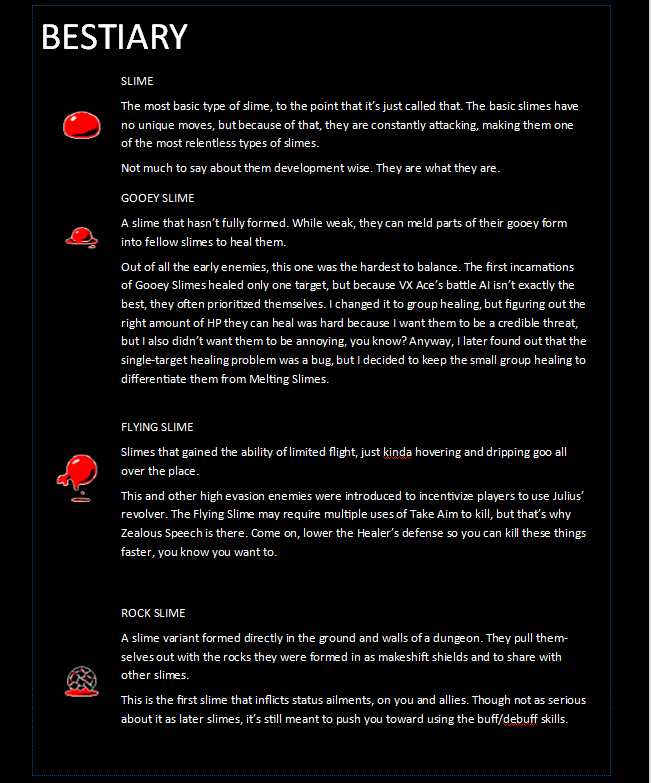 Also, something I'm writing alongside the game is a commentary PDF, like the commentary book for All Our Asias. It will have a bestiary, commentary on floors and their corresponding side stories and the inspirations for this game. The PDF will be a pay-what-you-want bonus, because it'd be cool to make money off of something I actually enjoy doing.
Also, 12/7/19 is a satisfying date. It can be read as 12+7=19 and I think that's beautiful.
Files
Slimes Demo 2 (for playing from launcher)
267 MB
Oct 30, 2019