Hand of the Goddess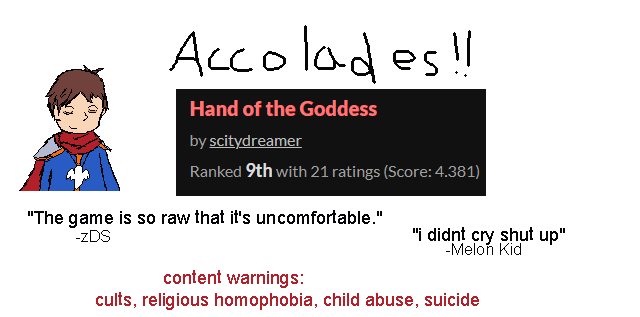 A short game of a JRPG adventure on fast forward, where a boy goes on a journey to stop the resurrection of the Dark Lord's god in hopes of resurrecting his goddess. May he find peace of mind.
This was made for IGMC Rebirth and can be finished within an hour, as per contest rules. The game definitely isn't perfect (especially since I stick to the default animations instead of using my own), but I'm happy with it. I've only been able to work on this game because I was stuck indoors for weeks because I caught Covid. I've spent most of my Covid time working on this and I'm kinda exhausted of it. Anyway, Covid is still here and serious, take care of yourselves y'all.
If you like the vibes, check out Slimes, which has even worse vibes.
CREDITS
QA
Q: Is this an Earthbound inspired game about depression?
A: It's a Drakengard inspired game about depression.
Q: Will you update this some more?
A: I probably won't do anything big like updating animations (because I don't like making animations) but there's some smaller things I want to fix/add before the jam is up.
Listen....... spending two weeks straight on something while being cooped up indoors didn't feel good, even if I love the game. I just. Really need to step away from it.
Q: Why isn't this playable in the browser?
A: With all due respect, I don't like the performance of browser RPG Maker games.
Q: Is Ty related to Tai from Slimes?
A: No, it's actually a complete coincidence that I named this healer character the same thing as the other healer character I had. I guess I just named him Ty subconsciously because I legitimately forgot I gave someone a similar name.
Download
Click download now to get access to the following files:
Hand of the Goddess (1.1) - PC.zip
146 MB
Hand of the Goddess (1.1) - Mac.zip
190 MB
Hand of the Goddess-PC.zip
147 MB
Hand of the Goddess-Mac.zip
191 MB